If you receive this message or "Domain has been set to not renew", and you did not intend to let the domain expire, you need to take action. Tip: you can also manually mark domains to not renew for domains you did not wish to keep.
You may receive this message because we have failed to receive or take payment for a domain. It will be set to "not renew" at the last moment before it expires. There may be an issue with the Credit Card (often the one we have on file may be expired), or it could be because you've decided to pay by bank transfer and something has gone wrong.
If you wish to retain this domain, you can log into the domains portal, and make payment manually (as well as update your Credit Card details if required). This is the quickest and easiest way to protect and ensure your domain.
Check if your Credit card Details are up to date. Click "My Account", and "Payment Details" Note that simply updating your Credit card is not enough, you also need to review the status of your domains.

Click "my domains", for an overview of the current status of your domains then bring up the current list of proformas. Work though it; reviewing the domains you'd like to keep and the ones you'd like to let expire by clicking "pay/update" on each one and either paying or removing them from the order.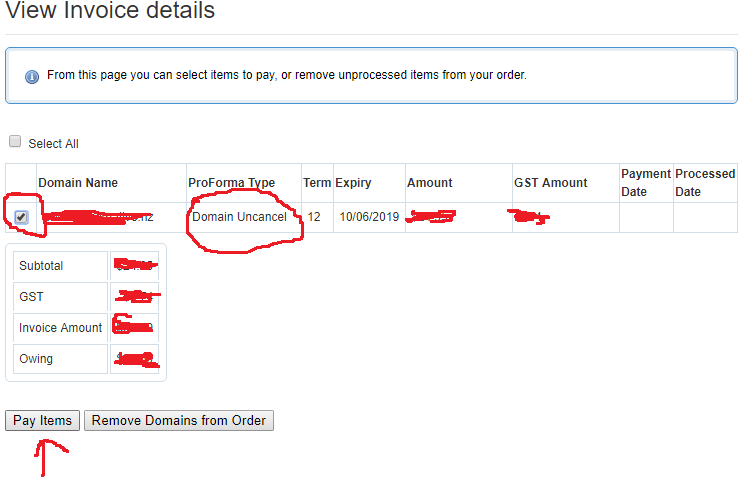 Then you can pay with your registered Credit Card. The payment should be instant, and if the domain did go pending release, it will be reinstated right away (give it an hour for the Internet to notice).
Lastly, we recommend bringing up your domains list, and verifying if there are any other domains that may need action (check for highlighted domains). If there's no Proforma any more, you can cancel/uncancel the domain to make a new one. Don't worry, that is safe.

If you still have questions, you can send an email to support@enlightendomains.co.nz or give us a call.