You may wish to update your domain contact details. To do this, follow the procedure below.
If you are unable to log in, see this article for details. https://support.enlightenhosting.com/hc/en-us/articles/360029515932
Click the client Area Tab
Select My Domains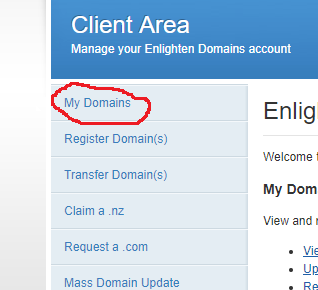 Choose your domain from the domain list by clicking on the name


You will now see 3 types of contact details that you can update.
Make the changes you need and click "Update Domain" at the bottom of the page
It may take a short while before these changes show up in the Whois.
Here is some information to help you understand what these three different contact details are for.
Registrant Contact
This is the owner of the domain, and these details must be correct as this is a requirement of the New Zealand Domain Name Commission.
For policy reasons, you will be unable to update the name field here, however to do this you may fill in a COR (Change Of Registrant) form, which can be found here. https://enlightendomains.co.nz/cor
You can update the other details however. Please ensure the email address is valid
Administrative Contact
If we need to contact you about this domain, we may use this address, and this address is also the one used for sending our renewal pro-forma Invoices. If the email address here isn't correct it's possible you may miss that and the domain could expire unintentionally.
With Enlighten Domains, we may also use the email address and details under "My Account" to reach you at times, please ensure these are correct, also.
Technical Contact
If there are technical queries regarding the domain this address is used. You are welcome to use Enlighten Domains here if you would like us to assist you with handling technical queries.