How to Transfer a domain in
Log in
click domains
click Transfer in a domain in the actions section
Enter the full domain name, and the associated auth. code, and click add to cart.
Be aware that transferring domains is always free, the cart is just used to record the transaction.
Follow the on-screen prompts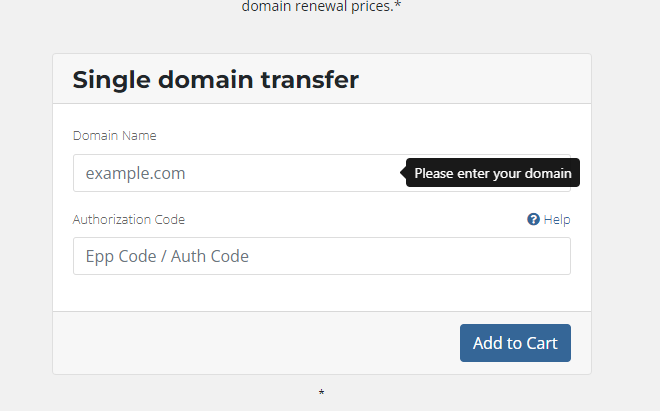 Initially, the domain will be in the "pending transfer" state. After some time, it will change to reflect id the transfer was successful. It may also take a few hours for all domain data to sync between our system and InternetNZ.
Transferring the domain does not change any of the associated contact details or other domain properties (including the defined nameservers). You may wish to change those afterwards. Note that to change the registrant, you need to follow the Change of Registrant or COR process.
Things that can go wrong
If something goes wrong in the transfer, check your email, and you will have received a message with the specific error.
1) You don't have the correct auth code.
If you enter the incorrect auth. code, or can't transfer the domain (for example the other registrar has domain lock turned on) the domain may initially appear correctly transferred. Later, the domain may show as "transferred out".
All valid Auth. codes have Exactly 16 characters. If you received an Auth. (or sometimes called EPP) code with less characters, it may actually be a Legacy UDAI, which will NOT work.
2) The domain is locked.
This is uncommon, but sometimes a domain may be locked for transfer, either by a client, or by the registry (for example, if there is a running ownership dispute)
3) A transient error.
If the transfer fails, our system will try again later. Sometimes there may be maintenance or issues at InternetNZ, or networking issues. If that's the case the retry will usually work.
4) We are already the registrar.
If we are already the registrar for this domain, the transfer process won't work. Get in contact with is, and after verifying the parties involved, we can move the domain between accounts manually.
5) Something else.
If the transfer fails, and you don't know why, please contact Support and we will help your further.